Welcome to the Cellblock!
DUMONT AND TOOTS GET LOCKED UP
February 2, 2008




The Nashville Predators have locked up two key pieces to the on-ice part of the franchise. David Poile announced the contract extensions of Jordin Tootoo and J.P. Dumont on January 31 and February 1, respectively.

Tootoo, the first person of Inuit descent to play in the NHL, has shown gradual strides of improvement since his first game on October 9, 2003. From his four goal and eight total point debut campaign to
the more complete player he's becoming this season (seven goals already), Tootoo is no longer just "the enforcer" but can throw down and unload a blistering slapshot for a goal. Once he returns to the lineup, he should be able continue contributing with solid play as well as on the score sheet.

As far as Dumont goes, not much more needs to be said past his current franchise-record 16 game point streak. But, since we have nothing but time on our hands before the game tonight, we'll continue the case for Dumont. Since joining the Nashville Predators (by choice) in the 2006 off-season, he has amassed 111 points in 134 ganes. Not to mention, he's a combined +23 over his Nashville tenure. Teamed with captain Jason Arnott, he's part of one of the best lines in franchise history. He was rumored in Eklund's "trade watch" blog on hockeybuzz.com and even named as a potential Red Wing at the trade deadline but with the Predators winning and Dumont on absolute fire, ownership did the right thing by locking his up for the next four years.

David Freeman and the new owners have certainly listened to fans and done their homework. All we can hope for is Arnott and Radulov are next in line for long-term deals.



---
BLUM LATEST PREDS PROSPECT TO IMPRESS AT WJC
January 1, 2008




Once upon a time, teams had to wait two or three full-length seasons to even get a glimpse of whether or not their draft picks will pan out.

The Predators had to wait six months.

General Manager David Poile and the Predators organization made defenseman Jonathan Blum and goaltender Jeremy Smith their first two picks of the 2007 Entry Draft this past July. Both players are playing for Team USA in the World Junior Championships currently going on in the Czech Republic.

The Americans finished the preliminary round perfect; never surrendering even one point in the standings to the competition. Smith has backstopped Team USA from the beginning of the tournament and goes into the semi-finals with a record of 4-0-0, including having amassed 78 saves on just 83 shots.

Blum had an assist on Team USA's second goal against Finland on New Years Eve and 2006 draft pick Blake Geoffrion assisted on the game winning goal against Russia earlier in the week.

The semi-final opponent is still be determined but the game will be played on January 4th.

You can listen to the action live by logging onto usahockey.com.




---
PROSPECTS SMITH, GEOFFRION LEAD TEAM USA TO THIRD WIN
December 29, 2007




The Predators are extremely proud of their youngsters.

And they're playing well to boot.

Jeremy Smith, the Predators second pick of the 2007 draft, stopped 28 shots en route to a 3-2 win over Russia in their third game of the World Junior Championships. Nashville's second pick of the 2006 draft, and Brentwood, TN native, Blake Geoffrion added an assist on the game winning goal three minutes into the final period.

Team USA will complete their preliminary round schedule on New Years Eve against Finland. The puck drops at 11am central time.

You can listen to the action live by logging onto usahockey.com.




---
SMITH BACKSTOPS TEAM USA TO ANOTHER WIN
December 28, 2007




Predators prospect Jeremy Smith is quickly becoming "the man" for the Americans in the World Junior Championships.

Smith, the second pick for the Predators in the 2007 NHL Entry Draft, won his second game of the tournament by stopping 16 of 18 Swiss shots en route to the 4-2 victory on Friday. He has now amassed 35 saves on 38 shots in the World Juniors.

In an effort that should have Preds fans drooling, Team USA outshot Switzerland 51-18 while scoring all four of their goals on the power play. They'll have to keep that energy and effort up when they face off against the Russians tomorrow afternoon.

You can listen to the action live by logging onto usahockey.com.




---
TROTZ AND THE PREDS GET 300th WIN
December 28, 2007




It only took 692 games.

And considering other expansion franchises like Atlanta (222 wins in 612 games), Columbus (188 wins in 529 games) and Florida (412 wins in 1071 games), that 300 wins after 692 games doesn't look that bad.

Head Coach Barry Trotz and the entire Nashville Predators hockey club won their 300th game when they held on and won against the Columbus Blue Jackets on Thursday night in Nashville.

Congratulations to the new owners who are coming on just in time for the milestone, congratulations to Barry Trotz who has guided this team from its infancy and congratulations to Ville Koistinen, the Preds rookie defenseman whose first NHL goal was the game winner. We hope he gets to keep the puck for himself.

Anyway, here's to 300 more.

(you know... hopefully by 2012)




---
PREDS PROSPECTS IMPRESS AT WORLD JUNIORS
December 27, 2007




Four Nashville Predators prospects are off and skating in the 2008 World Junior Championships but one stood above the rest.

Nashville's second pick of the 2007 NHL Entry Draft, goaltender Jeremy Smith, backstopped the United States to a 5-1 win over Kazakhstan. He stopped 17 of 18 shots in the win and was impressive in the Americans first game of the tournament.

Team USA's next game is against the Swiss on Friday at 11:00am Central. You can listen to all of Team USA's games by logging onto usahockey.com.



To read the article featured on nashvillepredators.com, CLICK HERE.




---
THE NEW OWNERS GIVE BACK...
December 19, 2007




An hour before game time on Saturday, December 8, David Freeman and the new ownership group thanked Cell Block 303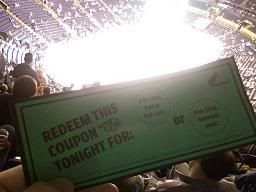 for not only their business but also their patience and support during the long and arduous sale process. The gift? Each inmate received a free beer/soda coupon.

And, just to clear the record, no, it wasn't the "$2 Beer Night" size beer either. It was the full sized, Sam's Club sized, super sized large beer. (*ah-hem*... or soda.)

Then -- as if free beer wasn't enough -- Mr. Freeman sent a personal e-mail this past week to Cell Block Warden Mark Hollingsworth.

"I want to thank you and all your Cell Block friends for your support. You guys are a unique and special part of the club. Keep it loud."

To that we say: "No... thank YOU, Mr. Freeman."

So, once again, we'd like to thank Mr. Freeman and the entire new ownership group for their extremely humbling gestures. We appreciate a simple "hello," a handshake and a "thank you," let alone a personal e-mail and free beverages.

If they want to come up to the Cell Block sometime, we'd be more than happy to share a period or two with them.

Maybe Mark would even be willing to let them collectively hold up the "AAAAAAAH... SIT DOWN YOU LOSER!" sign one time.

*sigh*

One can only dream.


PHOTO BY JEREMY K. GOVER



---
NICK SABAN HE IS NOT...
December 18, 2007




He's no Nick Saban.

He's not going to sit up in his seat in Cell Block 303 and lie that he's not going anywhere and to stop asking him about it.

Instead, he's doing it the admirable way: keeping it private.

Former Predators owner Craig Leipold
has been rumored as the next owner of the Minnesota Wild, but, when asked by The Tennesseans John Glennon, he declined comment. (link to article below)

While Preds fans and Cell Block Inmates alike would be sad to see his go to Minnesota, let's face it, the guy is all class. Just like when Tomas Vokoun returned to Nashville for the first time since being traded away to the Florida Panthers, we will respectfully root against him if he, in fact, is the next owner of another NHL team.

And, in all honesty, we should all respect and encourage his desire to own the Wild. He's a man who wanted to own a team but a business man who didn't want to lose money while doing it. Minneapolis, near his home of Racine, Wisconsin, would be an ideal place to own a franchise and Minnesota isn't exactly struggling at the turn-styles.

We here in 303 support Mr. Leipold in whatever endevour he decides to venture into next...

...even if we will be rooting against him.

To read the article, CLICK HERE.

PHOTO BY MARK HUMPHREY, AP (FILE/2002)



---